A City-Light series by Oliver Ressler in Munich
within the framework of the Kunstverein München's exhibition "Exchange & Transform"
2002
At busy sites in Munich's inner city, posters (175 x 119 cm) were presented as City Lights from 14 May to 10 June 2002. The repressive actions of both politics and police against an demonstration on the occasion of the 38th NATO security conference which took place from 1 – 3 February 2002 in Munich provides a starting point for the poster series. Munich's chief mayor, Christian Ude (SPD), took an unverified claim from the German constitutional protection agency, that 3,000 "violence-prone demonstrators" were planning excessive acts of violence and a "de-glassing" of Munich's inner city as cause to impose a three-day demonstration ban. The lifting of the Schengen agreement and the prohibition for demonstration participants to cross the borders from neighboring countries accompanied this measure in order to avoid, according to Bavaria's Minister of the Interior Günther Beckstein (CSU), "leftist, cross-border violence tourism."
More than 3,500 police officers, special vehicles, and barricades were called in to execute the officially prescribed infringement of the constitutional right to free demonstration during the NATO security conference. 7,000 anti-war activists and opponents of economic globalization attempted – despite prohibitions, barriers, and police encirclements – to practice their right to demonstrate in Munich's inner city. Of these, 792 were arrested although participation in a prohibited demonstration is actually tantamount to a disruption of public order (comparable to a traffic violation).
Through the construction of fictive threatening scenarios, people were hindered from practicing their democratic rights and the proudly claimed "Liberalitas Bavariae" (the Bavarian liberalness) of politics, police, secret service and media were trampled on.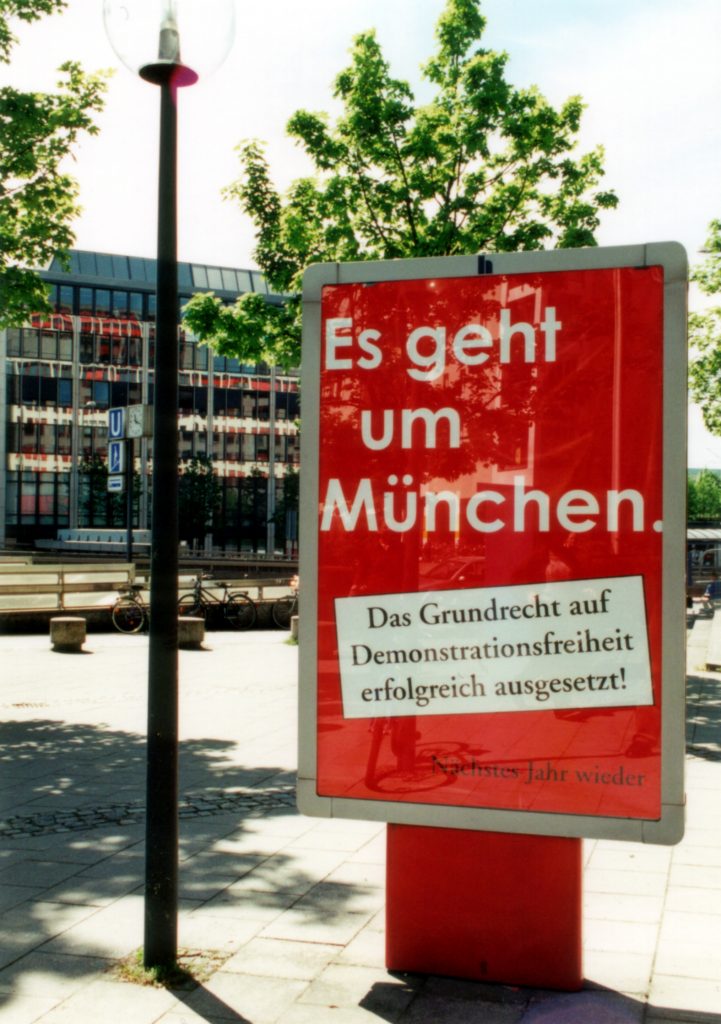 The three poster subjects of the City-Light series bring together the available knowledge on location at the events around the NATO security conference with the fact that a month after the total demonstration ban by the SPD head mayor, his politics – and thereby also the restriction of democratic rights – was confirmed by a brilliant election victory. Therefore, in the work "This is what democracy looks like (Liberalitas Bavariae)" in the City-Light posters, the Social Democratic Party's (SPD's) election slogans, "Munich needs more red!" and "It is about Munich" are combined with events surrounding the demonstration ban. The poster subjects, presented at various sites throughout the inner city, create an open structure and do not allow for a clear designation of who is behind the posters. With two of the posters it is even possible that passers-by could believe Munich's SPD to be the initiator, proud of suspending democratic rights. In this case this intervention into the "order of discourse," as Foucault described that essential element of the exercise of power, would amount to a weakening of the position of the supposed authors, the SPD, at the level of symbol-politics. The third poster makes a clear statement: "The restriction of democratic rights has many abbreviations" is written next to the abbreviations: CSU, SPD, KVR, VGH and UDE.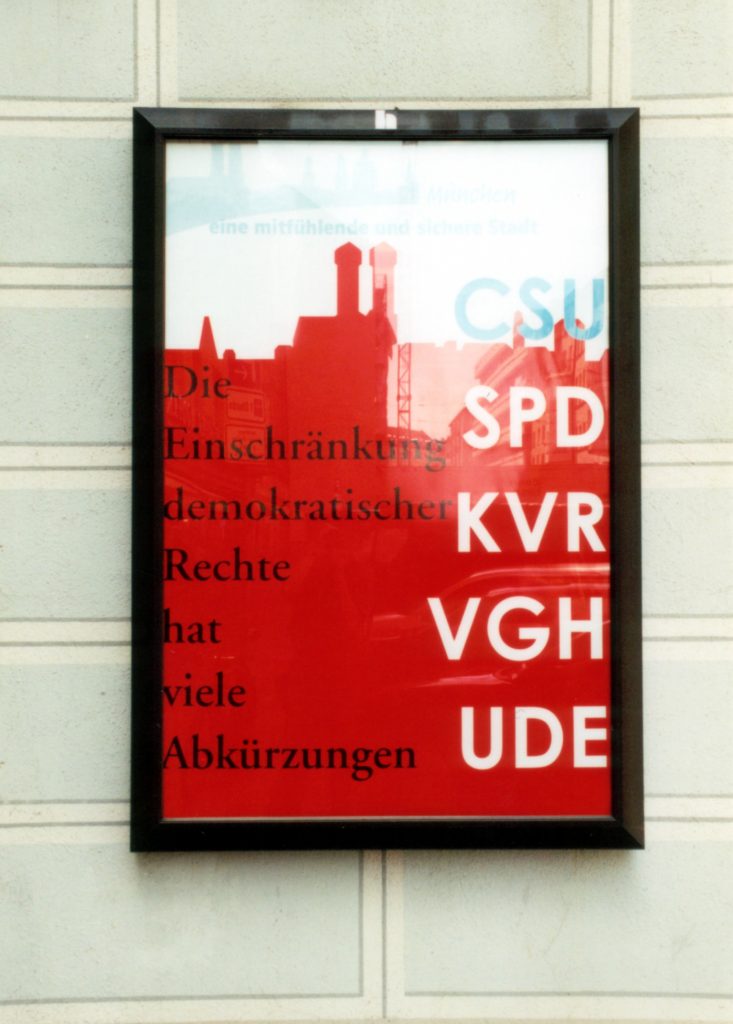 This intervention to the urban space is connected in terms of content with the video "This is what democracy looks like!" (SD, 38 min., 2002) about a kettling on the occasion of the first anti-globalization demonstration in Austria. The video could likewise be seen in the framework of the exhibition "Exchange & Transform" in the Kunstverein München from 26 April to 1 September 2002.