A graphic work by Oliver Ressler
Ink drawings on Hahnemühle Paper, 950 x 112 cm, 2021
Drawings by Claudia Schioppa
The title Property Will Cost Us the Earth comes from Andreas Malm's book "How to Blow Up a Pipeline" (1), in which the author shows that capital is responsible for the destruction of life and livelihood in an overheated world. He goes on from there to argue for the urgent necessity of a new wave of resistance, dedicated to the total global prohibition of new CO2-emitting devices. Assets must be stranded and investments written off. Yet no government on Earth dares lay a hand on allegedly sacrosanct property rights. This, writes Malm, is why the property must be seized by means of sabotage and destruction.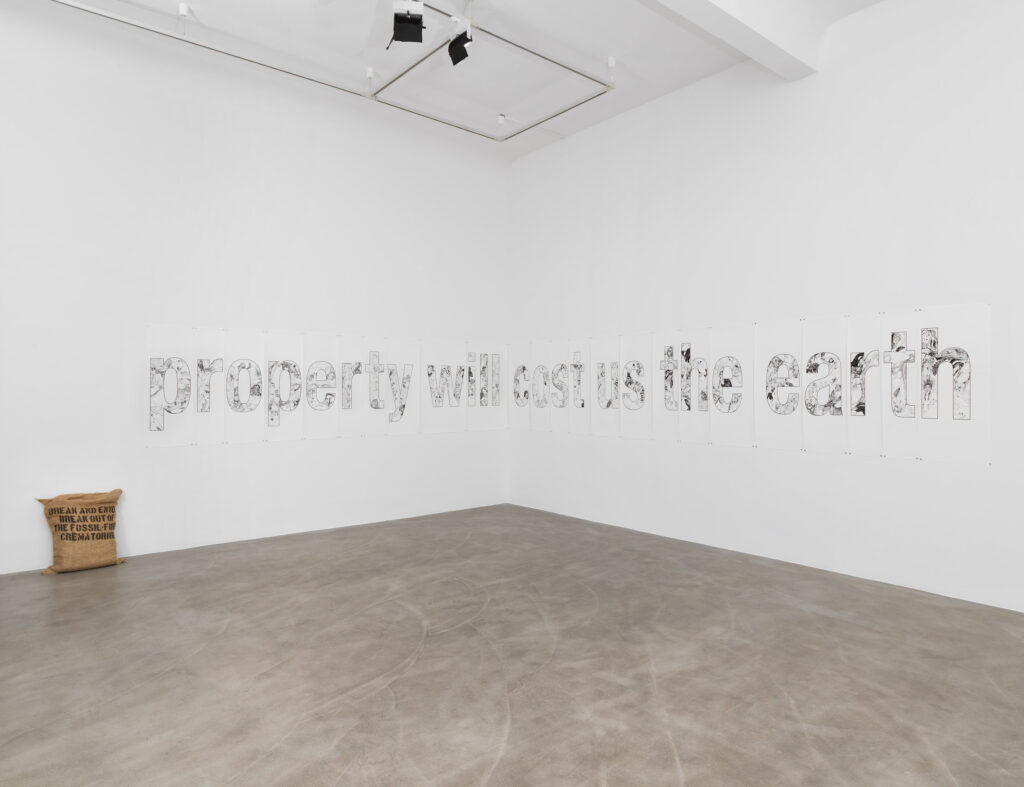 From a distance, the fonts forming the large-scale text Property Will Cost Us the Earth look like irregular grey. On closer inspection, drawings of animals appear. The letters themselves consist of ink drawings of hundreds of threatened species of wildlife. The mammals, birds, fish, amphibia, reptiles and insects shown are all endangered: all appear in the IUCN Red List (2) of 38,500 species under threat of extinction.
The graphic images of Property Will Cost Us the Earth lay bare a graphic truth.
Humanity has already reached a phase known to scientists as the 6th Mass Extinction. Animals and plants are dying out at the fastest rate since the extinction of the dinosaurs 65 million years ago. The ink drawings here bear witness to the variety of the life already at risk, all soon to be in catastrophic danger if we let capital carry on business as usual.
(1) Malm, Andreas; How to Blow Up a Pipeline. London, New York: Verso, 2021
(2) https://www.iucnredlist.org
This piece was produced within the framework of "Barricading the Ice Sheets", funded by the Austrian Science Fund (FWF: AR 526).