A video by Oliver Ressler
23 min., HD, AT 2006
"Risk" and "danger", "disaster" and "wilderness" are no longer the disavowed flipside of the globalisation dream. These erstwhile deterrents are factors to be calculated, mastered, hedged and traded by the best and strongest: a "challenge", an "opportunity" and a useful test of the ruthlessness required from economic "achievers". Crisis regions are growth areas: frontier markets multiply the blood spilled on former colonial frontiers. The essentially warlike character of market economics demands the impossible, making life a battleground where the stakes of "satisfactory performance" are murderous and suicidal.
Private security companies prepare state and corporate clients for this sudden-death Social Darwinism in bespoke civilian training programs that mimic conflict situations of varying complexity up to and including warfare. The website of one of these armed educational institutions, the British AKE Group, promises clients "the competitive advantage of engaging safely in areas that might otherwise have been closed to opportunity".
The video "The Fittest Survive" is based on footage of the five-day course "Surviving Hostile Regions", run by AKE Group in Wales (UK) in January 2006. The course instructors are former soldiers of the British Special Forces. Some of the participants are executives preparing for business in Iraq or other dangerous regions. Some are government officials on their way to the new protectorates. Still others are journalists soon to be formally or otherwise "embedded", which is to say: regardless of personal honesty, their words will appear only when they echo a spurious (historically clueless) discourse of democracy and human rights, helping scorched-earth market expansion on its way.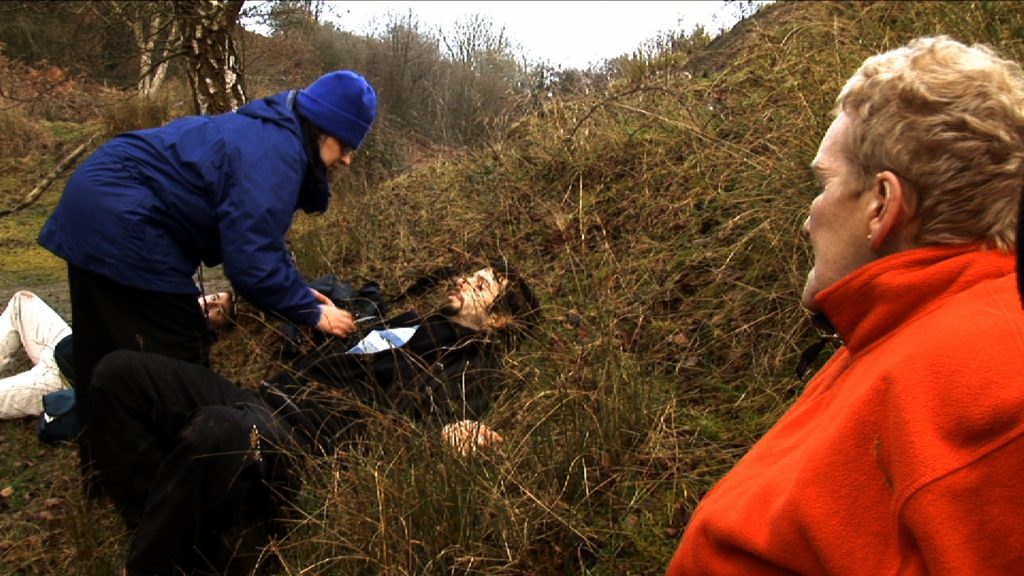 The video was mostly filmed on hand-held camera. It follows the survival-course participants through a staged "experience" of live shelling, ambush by guerrillas, rescue of accident victims and passage through minefields. British fighter jets flew low over the Welsh training camp, their war games foreshadowing the actual killing grounds where the trainees would soon travel under VIP protection.

Concept, Film Editing, Production: Oliver Ressler
Camera: Volkmar Geiblinger
Image Editing: Markus Koessl
Sound Editing: Rudi Gottsberger
The project was funded through support of Museum Arbeitswelt in Steyr and Grazer Kunstverein.